---
The Best Cookie Recipes… Ever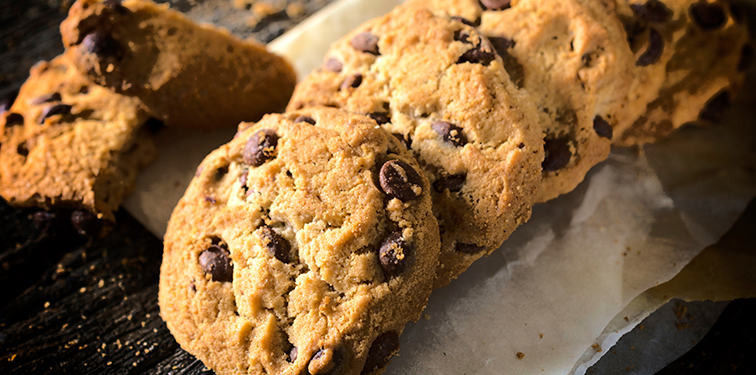 13 Must Try Cookie Recipes
With over 2 billion cookies consumed each year in America, is it a wonder that there's actually a holiday, albeit a minor one, called National Cookie Day? Personally, I think it ought to be a major holiday with the post office, banks, government and schools closed. The only companies that should be allowed to remain open are bakeries!
Now I know there's a National Cookie Day, which, by the way is December 4, I'm going to celebrate it in all its deliciousness.
Here's some fun facts about cookies:
The word "cookie" comes from the Dutch word "koekje," which means little cake. According to folklore, Dutch bakers would use a little bit of batter from the cake they were making to test the oven temperature, making sure it wasn't too hot to bake the cake. When they ate the baked batter, they decided it was quite tasty — and so was born the first "cookie."
The United States leads the world as the biggest cookie bakers and eaters.
Some states have "official" cookies. For example, the chocolate chip cookie is the state cookie of Massachusetts and Pennsylvania, and the bizcochito is the state cookie of New Mexico.
The Oreo, which was first introduced in 1912, was the best selling cookie of the 20th century.
Without further ado, let's get serious about National Cookie Day! Here are some recipes I found that are sinfully wicked and downright delicious:
I'm not sure I've ever had a more decadent cookie anywhere! I don't even want to know the calorie or fat content in them — I just want to consume as many as I can of these soft vanilla cookies with globs of thick chocolate fudge on top.
While these are not mass-produced, and are pretty much only sold in stores local to Baltimore, you can go on their website, and buy them. I did try to get them to cough up the recipe, but no luck. The closest I've found of a copycat on the web is Tidy Mom's Berger Cookie Copycat Recipe.
The baker said her cookie is a bit softer, but it hardens up on day two.
Anything that says turtle has to be fabulous — and this is! If you love turtle candy, close your eyes and dream of a "cocoa cookie rolled in pecans, filled with salted caramel and drizzled with chocolate!"
Could there be anything more sinful? The best part is you can start by using a brownie mix out of a box.
I had never had Red Velvet cake until I moved south and now I'm hooked. When I found this recipe that puts cream cheese in the middle, I thought I'd gone to heaven!
Add white chocolate to molasses, brown sugar and cinnamon and you have one of the tastiest cookie treats ever!
I love peanut butter and I love chocolate (are you sensing a theme with chocolate?), and I used to think there was nothing better than peanut butter and jelly — how silly of me. If you're not in the mood for peanut butter, you can substitute marshmallow crème.
Add cinnamon and caramel to your snickerdoodles and the result is sublimely gooey and yummy. Of course, I love anything that says use a mix!
Anise and cinnamon-scented, New Mexico's state cookie is served at every December gathering short of a fast-food breakfast.
Growing up we used to make s'mores around the campfire. For us adults who enjoy a drink or two, I found a recipe with a twist — and you don't need the campfire!
You'll think you're on vacation in Mexico with this delicious cookie. Try these the next time you're craving a margarita — or better yet, have both!
If you've ever been to the Big Apple, you know this is one of the things they're famous for, made even more famous by an episode of Seinfeld.
Last but not least, in honor of Jim Hensen who gave so many people joy with the Sesame Street characters he created, here's the original recipe. As Cookie Monster says, "Me Want Cookie!"
We hope you enjoy every last sinful bite!