---
Inspirational Boomer Women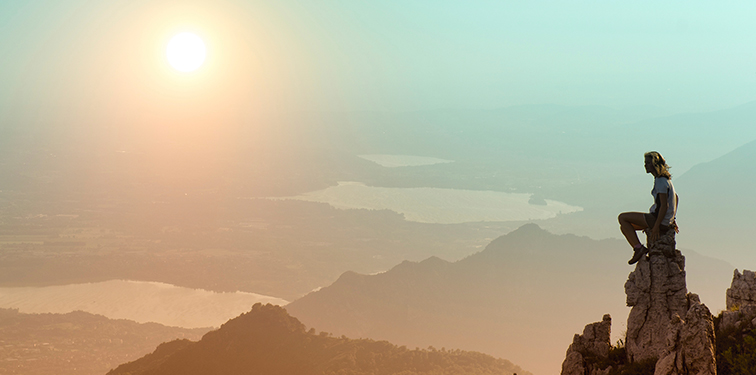 They're All Around Us, Boomer Women Who Inspire Us
"Life is what we make it, always has been, always will be." – Grandma Moses
When asked, "Which women do you find most inspirational," the majority of people I asked answered either with the name of a family member or someone in politics, news or the arts.
That's not who this article is about. It's not about stars like Goldie Hawn or Meryl Streep, or model Cheryl Tiegs. Rather, it's about women who don't make the headlines, but have done something so extraordinary that the rest of us could learn from them.
Evelyn Gregory
When I read Evelyn Gregory's story, I didn't know whether to laugh or cry, so I did both!
Her childhood dream had been to be a flight attendant, but that wasn't in the cards. However, after her husband of 42 years died and she retired from her position as VP and branch manager with Bank of America, she made her childhood dream a reality!
At the ripe young age of 71, Evelyn became a flight attendant. She applied to U.S. Airways and recounted her interview, "The little boy who interviewed me said, 'Mrs. Gregory, what would be your ambition with the company in 10 to 15 years?' I said, 'To be alive!'…I wasn't hired by them."
She ultimately worked for Mesa Airlines, becoming employee of the month a few short months after starting.
Harriette Thompson
Then there's Harriette Thompson, who became the oldest woman to complete a marathon when she finished the 2015 San Diego Rock 'n' Roll Marathon. What makes her incredible story even more so is the fact that she has beaten cancer twice — the last time just a year before her feat.
Of the 21,000 runners that day, the San Diego Union-Tribune reported that Thompson "drew exceptional applause at the finish, with still and video cameras capturing the moment as confetti littered the air."
When asked how it felt, she told the reporter, "I thought it was like Lindbergh coming in after his flight," she told the newspaper. And yes, she was alive when Lindbergh made his record flight from New York to Paris in 1927.
Jacqueline Murdock
Raised in Harlem, of Jamaican descent, Jacqueline Murdock fulfilled her life-long dream of becoming a model at 82 when Lanvin selected her to be one of their models in the 2012 "Real People" fall campaign.
Murdock had been a dancer at the Apollo Theater since the age of 17. After her marriage had broken up, leaving her with two children to raise, she went to work at NYU, earning three degrees along the way. Her zest for life, independence, and the will to pursue her dreams should be bottled for the rest of us!
Lalita Tademy
Before becoming a New York Times best-selling author in her 50s, Lalita Tademy had already conquered worlds and broken barriers in the corporate world. But another world was calling to her.
She left her position as vice president and general manager of Sun Microsystems, and spent several years researching her genealogy. She found the bill of sale for her great, great, great, great grandmother, and wrote her debut novel, Cane River, which blended historical facts and fiction into the story of her maternal ancestors in Louisiana.
After being rejected by 13 publishers, Cane River was finally published by Grand Central Publishing in 2001 and became Oprah's Summer Book Pick. It has been translated into 11 languages and was recently selected as assigned reading to incoming freshman at Stanford University.
Don't Forget About Mom!
And finally there's Doris Patz, my mother and the woman who inspired me the most — not only because she had the fortitude to survive raising me, but because she was an inspiration to all who knew her.
She was a musician and writer. But even more than that, she was a visionary and arts activist.
When mother was in her mid-60s, she established the Maryland Artists Collection at the University of Maryland University College, which was at the time the largest collection of its kind in the country. The collection of more than 200 works includes pieces of known and emerging artists who were born and trained in Maryland, or who lived, taught or worked in the state for a significant portion of their careers.
One of the amazing things about the collection is that every piece was donated either by the artist, a collector or their estate. My mother's vocabulary didn't include the word, "no," or as William E. Kirwan, past chancellor of the University System of Maryland said, "When she had an idea and made up her mind to do something, she was unstoppable. She was a remarkable person who worked out of the limelight to make a difference in a lot of lives."
What I found in writing this article is that all of these women have — or had — several traits in common: a passion for life and the desire and drive to turn their dreams into reality. Each one serves as an inspiration to me to continue on my journey to inspire others through writing.
As Margaret Thatcher said, "If you want something said, ask a man; if you want something done, ask a woman."