---
How to Feel Like a Kid Again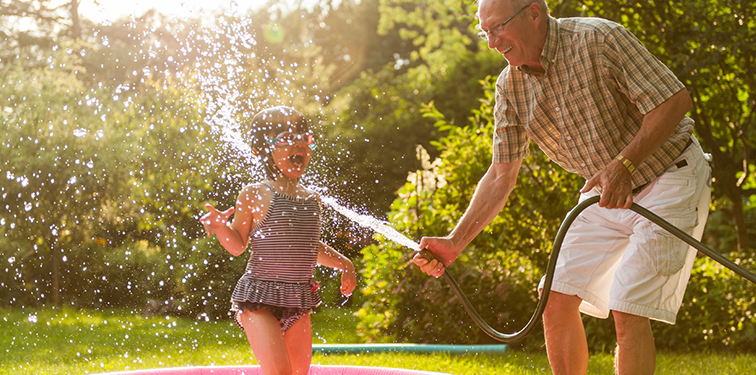 Feeling Young at Heart
Watch your step, don't bang your head! If parents and grandparents had a nickel for every time they said that, we'd all be rich. Kids are fearless and love to try new things, even if they're a little wobbly or unsure of the results. Can you remember the last time you really felt young? When was the last time you belly laughed until you hiccupped or swooshed down a water slide?
We've all heard the saying that being young is a state of mind, but that state of mind gets harder and harder to achieve when our daily habits revolve strictly around adult responsibilities, adult activities and concerns.
Life does get burdensome at times. But you can feel like a kid again if you can learn to shake it off for an hour or two and just play.
Revisit Sights, Sounds and Smells
Sometimes all it takes is spending a little time doing something that reminds us of childhood, or that invokes memories through taste and smell. For some, it's a physical activity that brings back carefree feelings, like blowing giant bubbles, splashing in puddles, running through sprinklers, dancing barefoot on the lawn, or riding a beach cruiser.
Kathy Kelly in Templeton, CA likes to "stomp in puddles, drink root beer floats, and eat ice cream."
For others, it's sights, sounds, smells and taste that bring back the giggles. Swimming in a lake brings back memories of splash fights, paddle races, dunking, and long afternoons spent wet while reading a book and having no other cares in the world. For a lot of people, any kind of water sport relaxes the soul and put us in touch with our inner kid. Pepe Padilla in San Jose, Costa Rica says that surfing helps him feel young.
In Culver City, CA, New York-born Jerry Prendergast says, "For me it is foods and smells. I love to buy a lot of cherrystone clams and open them raw. I make charcoal fire and have hot dogs and clams. And sorry to say but this Irish kid from New York was given a glass of beer to go with them at a very young age." Jerry says childhood memories are brought back by grilling because "my father turned the gas off in the house on Memorial Day weekend — and it did not go back on until after Labor Day."
Goof Around With Kids and Grandkids
Charmaine Gill of Chehalis, WA loves to play with her grandchildren. "I see the world through their eyes," she says, "and it's like rediscovering things all over again."
Kay Mercer of Paso Robles, CA says, "I went to an art fundraiser this summer, where they set up six different play stations using different art media: acrylics, clay, wood burning, and water colors. We decided to play in the clay. By the end of the evening, the smiles on everyone's faces were the same as the smiles on children's faces. It really did awaken childlike senses."
Stay in the Play
For others, it's all about just engaging in joyous adult activities. Lonny Abugow of Sacramento, CA says he enjoys "a day on a mountain on my free float mountain bike. Instant 11 year old." Aimee Pfaff, Sacramento CA, enjoys "water parks, ziplining and playing with my dogs." Andrew Cosca, San Mateo, CA, says he feels young again when "playing sports while chewing bubble gum."
According to Stephen Jepson, that's what feeling young is all about. Jepson, who will be 75 on his next birthday, is learning to kite sail this year, and says he's bumping up his juggling skills to four batons. Jepson, an artist, also designed his own skateboard and roller skates.
"I don't have an 'inner kid,'" he says, "because I'm an outer kid!" Jepson firmly believes that the secret to staying young is through active play.
Jepson, who plays hopscotch and jacks for exercise, points out that as we age we should incorporate activities that exercise both sides of our body and brain. "It keeps you limber, strong, and improves your balance, which in turn prevents devastating falls and injuries." Jepson also says that "being happy is a skill. You should never lose your joie de vivre, and the best way to do that is through play. Exercise should be fun!"