---
Making Halloween Memorable for Your Grandkids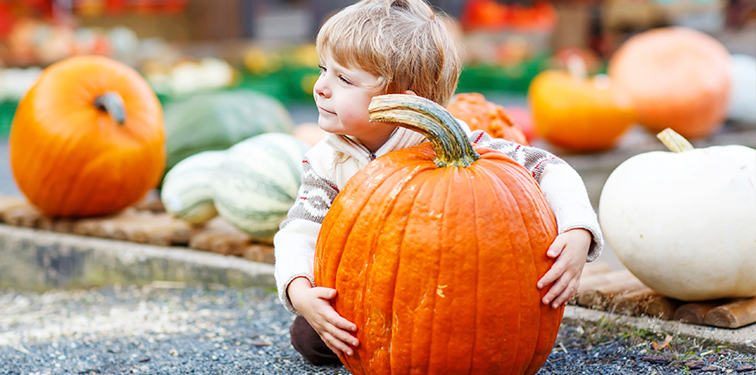 Getting Ready for Halloween as a Grandparent
I honestly believe that the reason Halloween has always been my daughters' favorite holiday is because 364 days a year I was telling them not to eat candy and the 365th I was out helping them get as much as they could!
These are some traditions I started when my daughters were very young… traditions I'm now carrying on with my grandkids… they love them and I love doing them with them, just like I did with their Moms.
Pumpkin Picking
I used to think I had to wait until right before Halloween to buy the pumpkin, but I found out that you can buy your pumpkin at your convenience anytime in October as long as you keep it in a cool place outside and don't carve it (that's what causes it to rot). We buy ours fairly early in the month so the boys can have a lot to choose from…one big one for the house and 2 smaller ones, one for each of them.
Whatever shape you get, the pumpkin should be the same color all around, you want it to be firm to the touch and not have a soft stem.
About two or three weeks before Halloween, the kids and I troop to the crafts store. They pick out a ton of glitter and glue, black and orange crepe paper, Halloween stickers, sticks, colored sticky tape, water-based washable paint, white acrylic paint for glass, paint brushes, etc. After that, we head to the grocery store to get graham crackers, candy corn, M&Ms, chocolate wafers, Hershey bars, marshmallow cream, and candy melts in orange and black — and of course, the candy we're going to hand out to trick or treaters!
Then we start making the things below.
Make Your Own Candy Holder
One of the most creative and fun things the girls and I did when they were young, and I now do with my grandsons, is create their own buckets for candy collecting. I'm always amazed how their imaginations work and how their creativity changes from year to year. The basics we use are their old sand buckets from the summer…well cleaned. Then I put a lot of newspaper or brown paper on the dining room table -— with an emphasis on a lot — along with some of the craft items and cutout pictures of ghosts, witches, goblins, gremlins, superheroes, etc., and then I let their imaginations go wild. I can't say I always can identify what they've done…but when all's said and done, their buckets are super cute and a reflection of their personalities!
Tea Light Holders
These are super easy and fun for the kids to make, and they're great for decorating your walkway, driveway, etc. Get a bunch of small glass jars. Any small jar that will hold a tea candle is great. Put lots of newspaper on the table, then let the kids paint the jars white — you need to use paint specifically for painting glass, and it's probably a good idea to help them.
They'll take some time to dry, so we generally do the painting over a weekend and leave the jars until the next week to decorate. After the jars are dry, the kids can paint a scary face on each with black paint or use some black paper to decorate them. Then, all you have to do is add a tea light candle, take them outside and light them. Their glow in the dark is great!
Pumpkin Carving
Since the kids are still so young, I buy Pumpkin Masters kits. Their kits come with carving tools for both kids and adults, so everyone can participate, and lots of fun patterns — everything from silly to scary! The kits are available at Home Depot, Ace Hardware, and Party City and I'm sure, other places.
Also check out their website, Pumpkin Masters, for free patterns, recipes, etc.
Really Easy Roasted Pumpkin Seeds
Once you've emptied the pumpkin of the goo and seeds (put them in a bowl), go through the seeds, wash them and try to get as much of the fiber off as possible. Heat the oven to 300º. Put the seeds in a bowl with some melted butter and a pinch of sea salt. Mix them thoroughly, then spread the seeds in a single layer on a baking sheet (I line it with aluminum foil then spray it with non-stick spray) and bake for about 45 minutes or until golden brown, stirring occasionally. Let them cool, and then put them out and let everyone devour them.
Halloween Day Apple Dunking
There's so much excitement (and impatience) waiting for it to get dark so the kids can go trick or treating, that I found it easier to tell the boys to have some friends over after school for a little while "before the official festivities begin." Then I let them go apple dunking.
I fill a metal tub with lukewarm water, put a lot of apples in and let the kids try to catch them with their teeth. It's a great photo op with some pretty hilarious outcomes…one year, Cash ended up in the basin…but he did come up with an apple in his teeth. Whoever gets the most apples gets a prize, although I usually have enough "prizes" around for everyone who participates.
After everyone's dried off, we take the apples and make candied apples out of them… bite marks and all! Line a baking sheet with waxed paper. Then put a craft stick into the stem end of the apple (make sure they're in tightly). Then melt the orange and black candy melts, each in their separate bowl, in the microwave – start with about 30 seconds on medium and keep going in 30-second increments until they're fully melted – stirring as you go. Then the kids dip their apple into one of the melted candy bowls, turning it half way around until that side is fully coated. Then they repeat it with the other color on the other side. While the apple's still wet, let them dip the apple into sprinkles and put some candy corn on to make faces. Then they put their apples on the baking sheet and let them set while we go trick or treating.
The Big Night Has Arrived!
The kids are dressed and have their decorated buckets in hand, and we all head out the door… with my camera, of course!
I usually leave a couple of tables out front…one for grownups and one for kids. The kids' table is filled with packaged candy in a big bowl and a sign to please take only two. The grownups table has a crockpot full of chili (I alternate between chicken and cheese and beef), paper cups and spoons, again with a sign to please go gently!
After the kids are done Trick or Treating, we come back to the house, head to the backyard where we light the fire pit, count our loot, have scary s'mores (Each s'more is made by putting marshmallow creme and a chocolate square between 2 graham crackers. We make them ahead of time, then put them in a preheated 450º oven on a baking tray as soon as we get back until the chocolate melts.), the candy apples we made earlier, some hot chocolate or milk and we tell really scary stories.
Whatever you do for Halloween, as long as you and your grandkids do it together you will make memories that will last a lifetime!