---
Start Running — It's Never Too Late!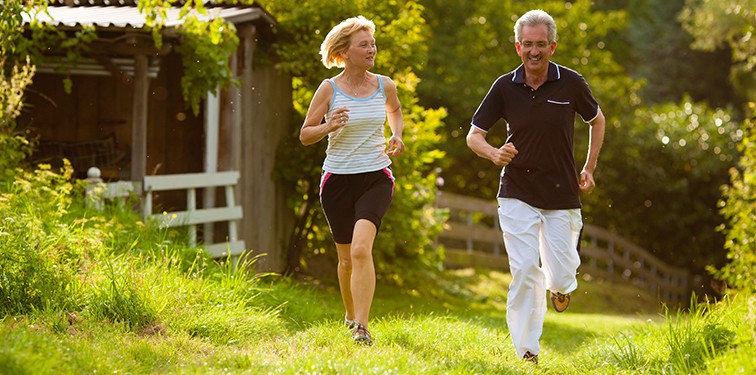 Taking Up Running Later in Life
My resolution for this year is to get into better shape — which I'm pretty sure is the same as about 99.999 percent of the adult population. But this year is different. I've found two inspirations — but first, to give you a hint as to what the activity is. Did you know that more than half of New York City Marathon runners are over 40? I certainly didn't, but when I read that, I could see a glimmer of hope for me.
My first inspiration — and idol — is 92-years-young concert pianist and grandmother of 10, Harriette Thompson. As of May 2015, she is also the record holder for being the oldest person to finish a marathon, the San Diego Rock 'n' Roll event — which she did in seven hours, 24 minutes and 36 seconds.
The fact that she finished is amazing, but it becomes even more amazing when you consider that she ran with her legs covered by white tights hiding her wounds from the radiation treatments she's been receiving for squamous cell carcinoma.
Virtually every study I've read has said there are huge benefits to running — even starting at an older age. Cited benefits include a reduction in the risk of high blood pressure, diabetes, heart disease, fractures when falling, along with weight control, greater joint and muscle flexibility, and the psychological feeling that comes with knowing you've accomplished what you set your sights on.
My second idol has decided to hang up his competitive running shoes after he recently finished running a 10k in 92 minutes — at the ripe young age of 102! Fauja Singh started running when he was 89 as a way to distract from the pain after his wife and son passed away. He may have stopped running competitively, but he hasn't stopped running. He now runs, walks and jogs for about four hours a day. He says it keeps him limber and supple.
So, how does one become a runner later in life?
The first thing to do is get checked out by your physician, something that's true of any exercise program you're about to start.
Every article I've read about starting a running program, no matter what your age is, started with creating a foundational program that will build and strengthen you in order to prevent injury, and quite frankly, failure. And this is particularly true if, like me, you've spent a few years being a slave to a desk and a couch potato!
Andrew Read, a well-known running coach, says, "If you've done nothing but sit at a desk for years and moved little you're not going to be ready to run until you can get the kinks out of your body." He goes on to state that the entire process of going from being a non-runner to being able to run a half marathon (and enjoy it) will most likely take about a year — but the benefits of taking it easy will as he says, "keep you out of the doctor's office."
The first thing you should do is get screened for functional movement. You'll want to find a professional (personal trainer, chiropractor or physical therapist) who is certified to perform the FMS screen test. The test is based on your present physicality and the goals you want to achieve. Your screener will give you a list of corrective exercises that will get your body ready to run while you can also be working on form.
One of the things I like most about Read is that he talks about running in terms people can easily relate to. He's also very frank, telling it as he sees it, another quality I appreciate. While I would like to think I can just go out and run and run like I did when I was a kid, I've come to the realization that it's not going to be that way.
The top coaches who train runners pretty much all say the same thing: develop flexibility, balance, stability and proprioception (the sense of the position of parts of the body, relative to other neighboring parts of the body), then endurance, and finally add strength and power.
Read starts with a walk/run program. Here's a brief overview of his program:
Week 1 – Jog 1/Walk 4 x 6
Week 2 – Jog 2/Walk 3 x 6
Week 3 – Jog 3/Walk 2 x 6
Week 4 – Jog 4/Walk 1 x 6
He then adds time to the intervals:
Week 5 – Jog 6/ Walk 4 x 4
Week 6 – Jog 7/ Walk 3 x 4
Week 7 – Jog 8/ Walk 2 x 4
The next stage again increases the interval time:
Week 11 – Jog 17/Walk 3 x 3
Week 12 – Jog 19/Walk 1 x 3
Week 13 – Jog 60 minutes
That's the end of Stage 1. And while it takes three months to achieve, Read stresses again that taking time to get to this point is important in order to remain injury-free.
His Stage 2, which should last a few months, is pretty simple. It's designed to build your endurance, strength and stability. And lastly, Stage 3 is for speed work.
I think I'm now sufficiently motivated to remove myself from the couch and start a running program — I hope you'll join me!